The integration of Microsoft Teams with Atlas Governance enables the automated creation of videoconferences by creating meetings on Boards.
In many cases, for integration to be possible using your corporate email account, prior authorization from the Atlas Governance application will be required in conjunction with your organization's Information Technology department.
Atlas Governance integration is an application that must be authorized in your organization's Active Directory.
This procedure can be done in two ways:
Authorization of the application "Atlas Governance OAuth" in Active Directory
1. Access the link:
https://login.microsoftonline.com/common/adminconsent?client_id=2efbb073-0778-4624-aca7-16392b066b78&response_type=code&scope=OnlineMeetings.ReadWrite&redirect_uri=https%3A%2F%2Fwww.atlasgov.com%2FOAuthRedirect
2. A screen will appear requesting authorization for the "Atlas Governance OAuth";
3. IMPORTANT: the field "Consent on behalf of your organization" must be checked;
4. Select the option "OK";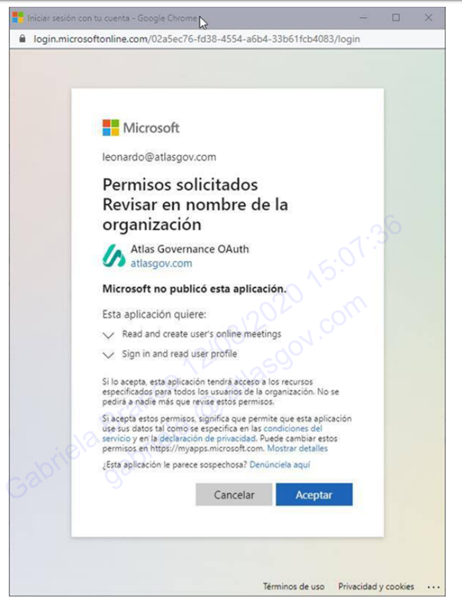 5. Once authorized, other users of the organization may carry out the integration procedure normally.
Important: If user authentication continues to fail, verify that the consent of the "Atlas Governance OAuth" application (2efbb073-0778-4624-aca7-16392b066b78) has been given for the entire organization, according to the guidelines of this article.