With technology advancing more every day, manual processes become more automated, being great allies of time optimization, and signatures could not be left out of this. In this article we will understand how each Atlas Sign signature works, what is needed to complete it and some curiosities about how it works so you can choose the one that makes the most sense for your application:

Electronic signature:
What it is?
It is a way to sign documents online without using encryption mechanisms, that is, it does not contain the need for a digital certificate to be executed.
And the legal validation?
The legal validity of the electronic signature is recognized through Provisional Measure 2,200-2.
Legally, it is sufficient that the parties involved agree to the signing process.
In the case of Atlas, we capture Email, IP, Mobile and Document Hash. We also require the second factor of authentication during the process. All of this information collected in the application process is attached to the "Signature Log", which is available on the last page of the document, and can be sent to agencies that accept electronic signatures.
How can I validate my electronically signed document?
There is no technical standard or specification on what the electronic signature must contain, so there is no validation or technical tool capable of "validating" an electronic signature.
During an electronic signature, information such as the user's IP, device, date and time, email and other miscellaneous information is recorded to be linked to the process as evidence of the signature made.
When can I request this type of signature?
As they have legal value, electronic signatures are usually used in the closing of contracts, insurance, health plans, HR forms, sales contracts with suppliers, subscription of services, banking operations, legal notifications, and other possibilities, as mentioned. previously. Previously, for validation it is only necessary that the parties agree.
How to sign with this type of signature in Atlas Sign?
Accessing another article of ours you can follow the step by step video of how to carry out the process: How to sign a document with electronic signature!
Digital signature:
What it is?
It is a type of electronic signature, but with a more specific technology. Its greatest particularity is the use of mathematical operations based on cryptography, that is, when choosing this category, it is necessary to have a digital certificate to complete the process, which guarantees even greater security.
How can I validate my digitally signed document?
All documents signed in Atlas with ICP-Brazil certificate can have the proper compliance validated in the ITI Compliance Verifier (Information Technology Institute)
And the legal validation?
To carry it out, an ICP-Brazil digital certificate is used and its legality is guaranteed by Provisional Measure No. 2,200-2, of 2001, which states:

"Art. 1 The Brazilian Infrastructure of Public Keys - ICP-Brasil, is created to guarantee the authenticity, integrity and legal validity of documents in electronic format, supporting applications and enabled applications that use digital certificates, as well as of secure electronic transactions.

In this way, they can safely replace traditional paper transactions. For this, there are a series of technical specifications prepared by ICP Brazil to guarantee the security of the documents and avoid fraud.
Is it at Atlas where I buy the digital certificate?
Nope! The companies accredited by ICP-Brazil are certification authorities, which are companies specialized in issuing certificates to users (Certisign, Valid, Serasa and many others).
Atlas provides the signature mechanism to carry out the process with externally acquired user certificates, having full compatibility with the certificates issued by the ICP-Brazil certifying authorities.
Why do I need to install the Web PKI extension to complete my digital signature?
Atlas is a browser-based software (Google Chrome/Edge/Mozilla Firefox...) and reading the user's certificate for signing is not possible without the help of an intermediary application with proper access to the user's certificate, and that's where the extension comes in! The extensions installed in the browsers (Lacuna) have the appropriate access and are equipped to read these certificates, allowing Atlas to execute the signatures. If you want to know how to carry out this process, just click on: How to do the installation process of the digital certificate extension?
How to sign with this type of signature in Atlas Sign?
Accessing another article of ours you can follow the step by step video of how to carry out the process: How to sign a document with digital signature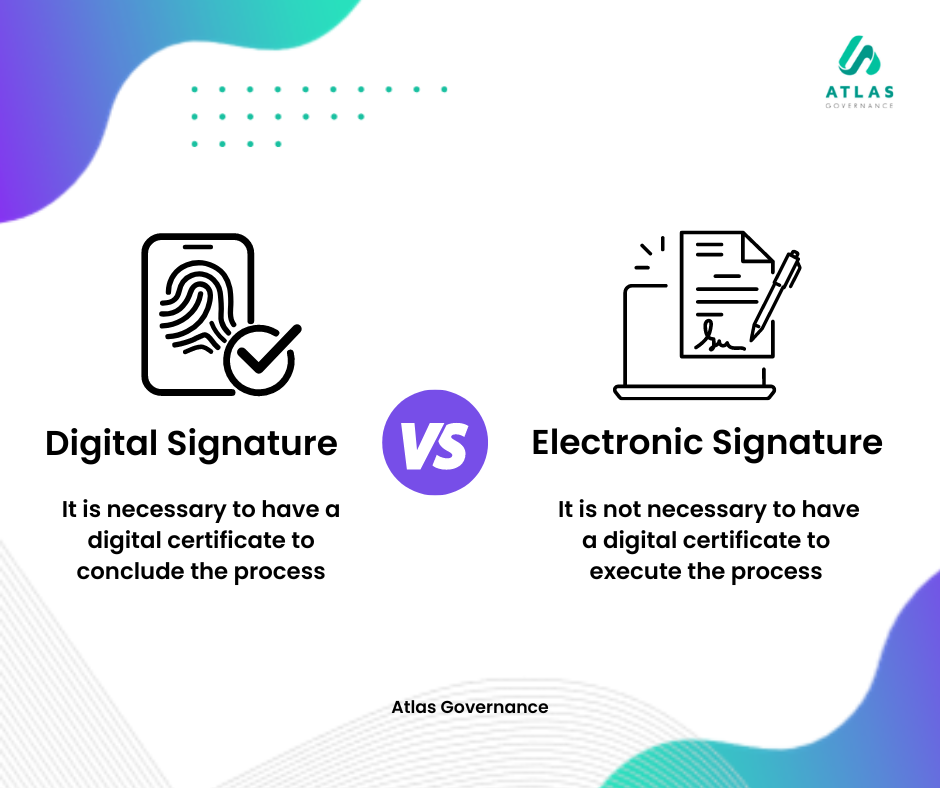 We hope you are enjoying our service and that you are finding the information you need in our help center. If you could rate our article, it would help us to understand how we can improve and provide an even better service.
At the end of the article, you will find the field "Was this article helpful?", just click on the option you want: Yes or No
Thanks for your time and contribution!