The Atlas Governance portal works with granular permissions, so it is defined as an administrator the person who will be responsible for the management of the portal, there are some functionalities to which he has access to direct the function. Let's check what is shown on the main administration screen.
The first option on the main screen is to insert the logo, to mantain the Atlas portal with the face of your company!

You can choose a file to become the company logo or even reset to remove the one that has already been inserted.
You can also choose the background color by scrolling through the screen and selecting the option: "Pick color". The default background will be white, but don't hesitate to select another color if necessary.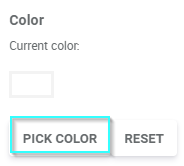 Enterprise Plan Exclusive Resources: Enterprise plan companies have access to some additional parameters such as the following: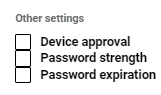 Device Approval*: Atlas can only be accessed after having administrator approval on the device from which it is accessed (resource available as add-on)
Password Strength: When enabled, people who register in Atlas, must obtain a password that matches the pattern chosen by the administrator
Password Expiration: Can be activated to set a deadline for users' passwords to expire and then have to update it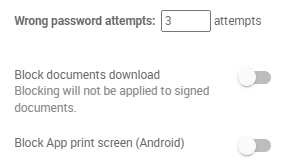 We also have the options of:
Wrong password attempts: How many times the user can miss the password until there is the blocking of your account
Block the download of documents: Thinking of bringing even more security and traceability of information, we have the option to block the download and only be able to view the documents that are in Atlas, with the exception of the signed documents
Block App print screen: That's a feature that makes it impossible for Android devices to do screenshots in the Atlas app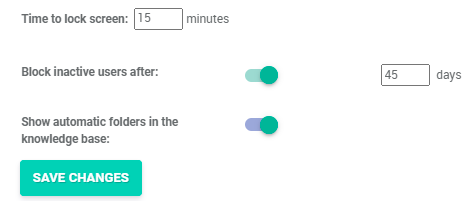 Time to lock screen: When the user is logged into the Atlas, but does not perform any activity, for security reasons, our system blocks the session after 15 minutes. With the Enterprise plan, the administrator can customize this locking time
Block inactive users after: The administrator can limit the downtime in Atlas if the member does not have access to Atlas at any time until the set deadline, your account is blocked by inactivity
Show automatic folders in the Knowledge Base*: Our Knowledge Base is divided into yellow folders, which can be edited and green folders, which are fed automatically by the portal. It is possible to make the green folders become invisible by disabling the key (resource available in all plans).

Administrators can also log out of all users at once if suspicious activity occurs. Once done, all users must enter the email and password along with the verification token to access the portal again.